What do you get when you have four movie making friends, a rural town with a local legend, and some bizarre goings on? You might be surprised to find out it's not the Blair Witch Project. But don't let the similarities in the storyline blind you, 1st Summoning is a noteworthy entity of it's own. Originally called The Millbrook Summoning, 1st Summoning is a found footage flick that follows a group of friends documenting their journey to an abandoned building which is infamous for its connection with the occult. Along the way, some creepy and unexplainable things are caught on camera. I know it sounds like Blair Witch, but bear with me.
As for the cast, we have the group's douchey yet surprisingly lovable leader Mark who is the head cameraman and fearless investigator. Next is Ace, the unheard voice of reason. Then, we have headstrong Leslie, and her ex, Ryan. They might not sound like the most likable group of characters. But this allows viewers to watch the cast picked off without getting too attached. And I did find Ace Harney quite likable as Ace.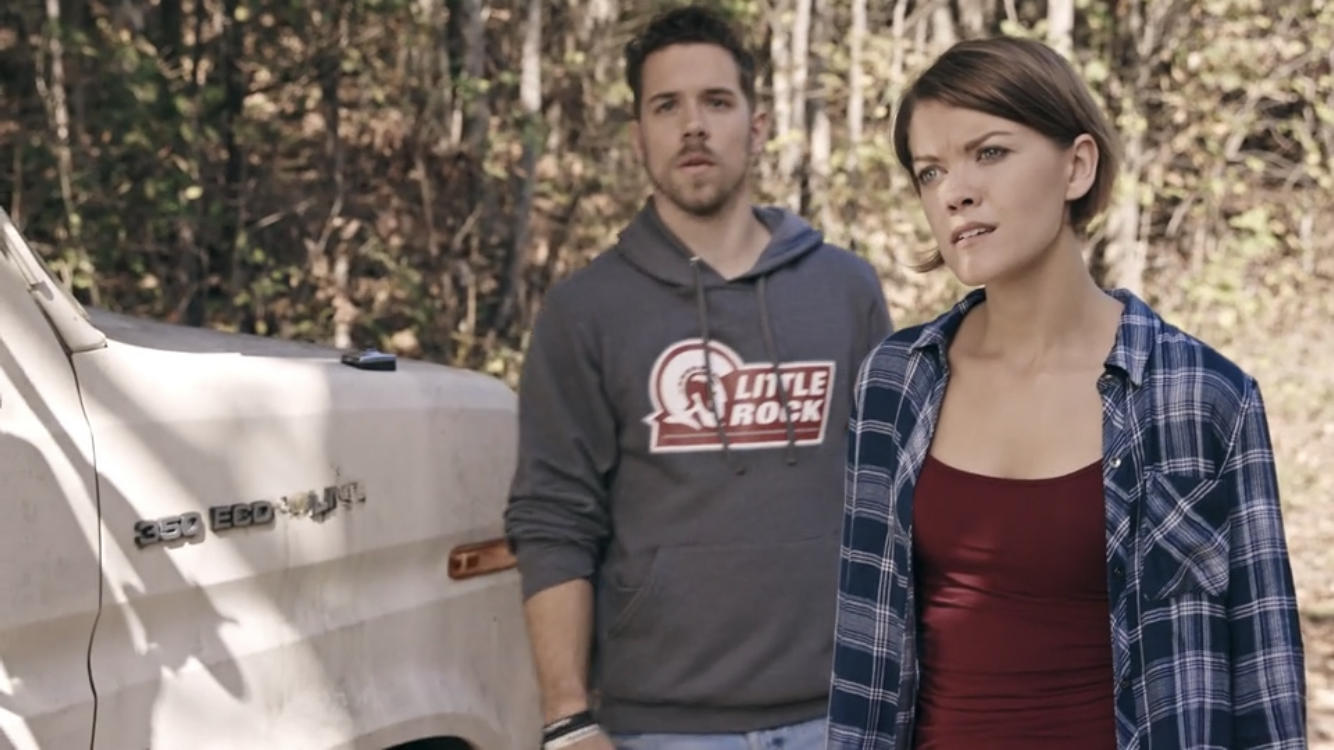 Much like in the case of 
Dry Blood
, Raymond Wood's
1st Summoning
is a movie that doesn't rely heavily on gory special FX. In fact, effects are used quite sparingly throughout. So, when they are employed, it makes an even greater impact.
The majority of the film's frights come from a healthy dose of well-orchestrated jump scares. As a person who isn't easily spooked, I couldn't help flinching at a number of scenes. The POV style allows for the scares to be aggressive and in your face. It's an experience that keeps you on the edge of your seat with anticipation.
The film differentiates itself from The Blair Witch Project by accelerating the pace about halfway through the film rather than going with a slow build to the final, jaw dropping sequence. Also, the mythology is decidedly different from BWP even if it does surround the occult.
My biggest complaint about the film is that the sound quality in some scenes is really poor. Some of the conversations are nearly inaudible. Even with headphones in and the volume all the way up I was barely able to catch what was going on. It can be irritating as this does happen a handful of times.
Also See: Velvet Buzzsaw is Bloody Bonkers [Review]
I also couldn't help noticing how the background noise seemed to leak into some scenes and overwhelmed any dialogue. It felt like the act of filming itself was louder than what was being filmed. Same thing with the camera itself. I get when the camera falls or is being handed off to someone it's going to make noise and rustle. However, just walking around with the device or when someone turns around suddenly it caused this squeaky/clacking noise that seemingly should have been taken care of in editing.
Overall, 1st Summoning is a well made feature that I thoroughly enjoyed. The buildup was a little slow for my taste but that was more than made up for it with an impressive cast, high quality shots, and the last half hour of the movie going completely off the rails. It's the ideal film to throw on during a scary movie night with friends.
Also See: Are You Afraid of the Dark? Miniseries On The Way
1st Summoning is available in theaters and VOD from February 22nd via Darkwood Pictures! I highly recommend it.
Wicked Rating: 6/10
Director: Raymond Wood
Writer: Chris Piner
Stars: Hayley Lovitt, Teddy Cole, Brook Todd, Ace Harney, Jason L. MacDonald
Release: February 22nd (Select Theatres and On Demand)
Studio/Production Company: Darkwood Pictures
Language: English
Length: 1hr 37 min