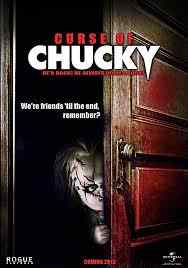 Fans of the Child's Play franchise have cause to rejoice. Series creator Don Mancini has confirmed that his is, in deed, hard at work on a screenplay for the seventh installment in the Child's Play franchise. This comes as no big surprise, considering how successful the latest direct-to-video installment was when compared to the cost of production. Rumors of a seventh installment have been circulating for some time but Mancini recently took to Twitter to confirm his involvement with Chucky 7.
No word on when this latest installment would go into production or any specifics on plot but expect us to keep you in the loop as more details are announced.
The most recent installment in the series, Curse of Chucky, saw the return of the indestructible killer doll that is possessed by the spirit of Charles Lee Ray. Chucky is back and he is through with the puns and one-liners that his past two films were rife with. In this installment, Chucky has set his sights on a young, wheelchair bound woman named Nica. Chuck arrives at her home and immediately begins making trouble for the nice young lady. Mysterious deaths start to occur all around her and Nica comes to suspect that the doll that recently arrived on her doorstep may be to blame.
Welcome to Twitter @chuckylivesnet! I am currently working on the script for CHUCKY 7

— Don Mancini (@RealDonMancini) February 18, 2015