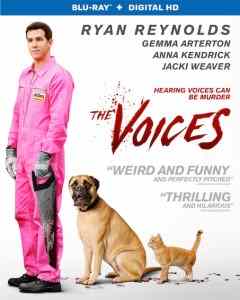 The Voices is headed for DVD and Blu-ray and we have all the details on the film's home video release for you after the break. Check out our rave review of the film here.
The Voices follows Jerry, a likable guy trying to find his place in the world. He has a new job at a factory and a major crush on a pretty young woman in accounting. He has his whole life in front of him and the world is his oyster. His only problem is that he suffers from schizophrenia and when unmedicated, his cat coerces him into committing terrible, murderous acts against those around him. The picture stars Ryan Reynolds, Anna Kendrick, and Gemma Arterton.
The Voices is written by Michael R. Perry and directed by Marjane Satrapi. It made its commercial premiere on VOD February 6 via LionsGate Entertainment. It will hit DVD and Blu-ray April 7th, courtesy of LionsGate Home Entertainment.
The DVD and Blu-ray special features will include deleted and extended scenes, a making of featurette, a look inside the recording sessions in which Ryan Reynolds creates the voices of his talking pets, and much more. Check out the artwork for the film's home video release to the left.