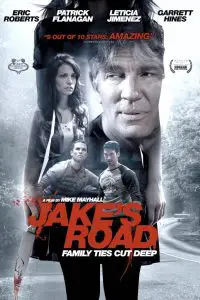 Stuntman Mike Mayhall's feature film directorial debut Jake's Road (review) has just made its debut on iTunes. You can rent or purchase the film there. In addition, you can read our exclusive interview with star Leticia Jimenez here.
Jake's Road features an ensemble cast that includes Eric Roberts, Garrett Hines, Leticia Jimenez, and Mayhall. In addition to directing and starring, Mayhall also penned the screenplay. Jake's Road is part horror film, part psychological thriller, and part suspense picture. It's ultimately a lot of fun and definitely worth a rental if you haven't already had the chance to check this one out. It is also available for purchase via DVD and VOD on Amazon.
Sam and his soon-to-be fiancé Kay return to his familial cabin for a family get-together. While there, Sam and his brother Mike must break the news that they will be selling the land on which their neighbors reside. This comes as a blow to the neighbors and serves to ruffle a few feathers. When the gang goes on an outing in the forest behind the cabin, they run into trouble. Someone is hiding in the woods and picking off members of the group with a rifle.