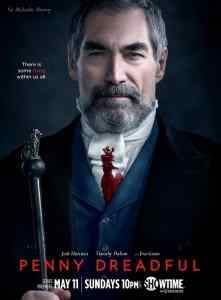 In anticipation of the series' sophomore season, Showtime has released a teaser trailer for Penny Dreadful. We have your first look at the teaser and more after the break. So, head inside and have a freaking look.
Penny Dreadful season two is slated to make its premiere on Showtime Sunday May 3, 2015. In the meantime, you can scope the newly debuted teaser trailer in the player below.
The series stars Eva Green, Josh Hartnet, Timothy Dalton, Harry Treadaway, Danny Sapani, Reeve Carney, Rory Kinnear, and Billie Piper. The upcoming season has an impressive roster of guest stars that will feature appearances by Patti LuPone, Douglas Hodge, Sarah Greene, and Jonny Beauchamp.
Official plot description from the series' website: Some of literature's most terrifying characters, including Dr. Frankenstein, Dorian Gray, and iconic figures from the novel Dracula are lurking in the darkest corners of Victorian London. Penny Dreadful is a frightening psychological thriller that weaves together these classic horror origin stories into a new adult drama.
Stay tuned to the site between now and the series' return to television in May for more updates as they are made available to us by the network. In the meantime, let us know your thoughts on the show in the comments below.