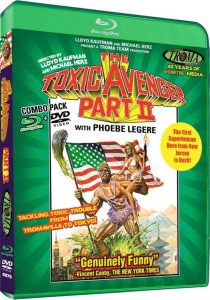 Troma has just announced that The Toxic Avenger II and Nuke 'Em High 2 are coming to Blu-ray and are now available for pre-order via Amazon.
In The Toxic Avenger Part II Toxie goes to Japan to search for his father and leaves his hometown of Tromaville open to attack from the criminal element. Nuke 'Em High 2 sees the return of The Class of Nuke 'Em High, only this time they are in college! Both films are slated for a blu-ray release April 14, 2015. The high def transfers of the films are a noticeable improvement over all previous versions of both films.
Troma is a fiercely independent film studio with an impressive catalogue of horror and exploitation titles. The brand has been around since 1974. It was co-founded by Lloyd Kaufman and his college friend Michael Herz. It is now one of the largest and longest standing independent film studios in the US. Through the Troma brand, we've been introduced to a series of cult icons like The Toxic Avenger and Sergeant Kabukiman. Troma has also served as a jumping off point for genre film celebrities and household names alike. Writer/Director James Gunn (Gaurdians of the Galaxy) got his start working with Troma and splatter master Eli Roth began his career acting in Troma pictures.