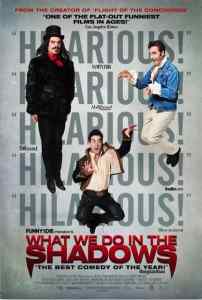 In support of the theatrical release of What We Do in the Shadows, Funny or Die has shared a new featurette that debunks seven popular myths about vampires. We have the clip available for you to check out, so head inside for your first look. If you have not done so already, you can read our rave review of the film here.
What We Do in the Shadows was just recently released theatrically in NY and LA. Thanks to a successful Kickstarter campaign, that initial release will be succeeded by an expansion into other markets, including San Francisco, Philadelphia, Boston, Seattle, and Washington, D.C. beginning tomorrow. Then we will start to see a national rollout strategy throughout the end of this month and next, which will see new cities being added to the roster weekly.
The film is written and directed by Jemaine Clement and Taika Waititi who previously collaborated on the HBO series Flight of the Conchords. Waititi and Clement both have starring roles in the film as well.
The mockumentary follows three vampires who live together as roommates. The picture will chronicle their day-to-day struggles as they cope with everyday problems, like paying rent or quarreling over household chores, as well as tackle more unique issues like where to find human blood.